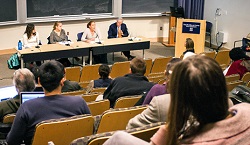 A campus forum on the idea of a Yale carbon tax brought up everything from making university departments more aware of their energy usage to getting professors to shut off their computers at night.
Overall, the students, faculty, and staff who attended the Nov. 6 session voiced support for a university carbon tax. If Yale were to establish such a tax, it would be the first major university to do so. In August, President Peter Salovey created a Presidential Carbon Charge Task Force to explore the idea and make a recommendation.
Visit YaleNews to read the full article.