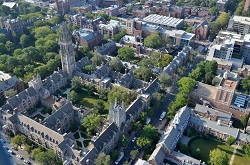 President Peter Salovey and Provost Benjamin Polak shared the report of the Presidential Carbon Charge Task Force with the Yale community on April 20.
Led by Sterling Professor of Economics William Nordhaus, the task force recommended that Yale adopt carbon pricing as part of its campus sustainability efforts. Salovey appointed the task force in August 2014 as part of a series of sustainability initiatives.
Visit YaleNews to read the full article.