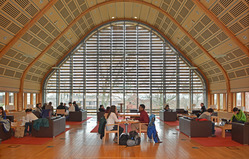 This month Yale embarked on an experimental program that will examine the effect of four different carbon-pricing models at several university buildings, including Kroon Hall. At F&ES, school leaders see it as an opportunity to expand research, student learning, and outreach on a critical energy issue.
As international leaders convene in Paris for United Nations climate change negotiations, one of the more frequently discussed solutions for reducing global greenhouse gas emissions is setting a price on carbon. But to date it remains unclear whether such strategies would actually work.
An experiment launched at Yale this month will examine that very question, testing a series of schemes that utilize behavior forces to improve energy efficiency in buildings across campus. 
Over the next six months, several Yale departments, including the Yale School of Forestry & Environmental Studies (F&ES), will participate in an experimental pilot study testing four different carbon-pricing models. Organizers hope the pilot project will provide insights into the best approach for a campus-wide carbon charge.