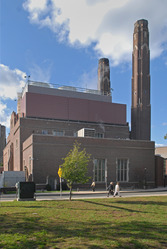 Two years ago, when Jennifer
Milikowsky
'15MBA
,
'15MF
, was a student, she moderated a teach-in panel about solutions to climate change. One of the panelists, Sterling Professor of Economics William
Nordhaus
'63, was asked what Yale could do, and he suggested offhandedly that the university implement its own internal carbon-pricing program — a system that would reward or penalize units within Yale for decreasing or increasing their carbon emissions. The idea stuck with
Milikowsky
. She wrote a memo about it that found its way to President Peter
Salovey
'86PhD
.
Two years later, Milikowsky and Ryan Laemel '14 find themselves sharing an office in Yale's facilities department, getting ready to launch what Yale believes is the first-ever carbon-pricing experiment in a university.