"We at the Sustainability Service Corps strongly believe that change happens at the small-scale, community level."
With twenty Yale buildings now seeing a price tag on the carbon emissions associated with their energy use, demand for technical expertise and energy management services is growing. The Sustainability Service Corps, a group of Yale undergraduates working for the Office of Sustainability, with support from Energy Management, is helping meet this demand by conducting surveys of campus buildings and providing guidance on how to lower a department's carbon footprint. Hear from Joslyn Barnett ('18) and Sherry Li ('17) about what they are learning inside buildings like Betts House and how hands-on education is an important part of Yale's academic mission. 
---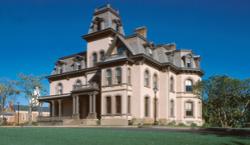 The Sustainability Service Corps (SSC) Energy Squad supports a culture of energy conservation at Yale in a number of ways, most recently by conducting building energy surveys across campus. These surveys—we call them surveys, not audits, because our work is more informal and inclusive than an 'audit'—afford students like us unprecedented opportunities to work with staff to apply what we're learning from faculty in the classroom. By assessing the energy usage of a space with a trained energy engineer and writing up our results in a summary report, our team is not only learning at Yale, but also helping Yale. This past February, after surveying the computer clusters of all twelve residential colleges, we took on an exciting new project: Betts House, one of the twenty buildings in Yale's carbon charge pilot.
Today, Betts House is home to the Office of International Affairs, Office of the Senior Counselor to the President and Provost, Yale Center for the Study of Globalization, and Yale Young Global Scholars Program. At over 21,000 square feet and with steadily declining energy use over the past few years, the French revivalist mansion at the crest of Prospect Street—once home to the Culinary Institute of America—seemed like a daunting first take in what would become a series of energy surveys for carbon charge pilot buildings. However, after walking into the first few rooms and learning from one of Yale's energy engineers that each was 2 to 3 degrees warmer than expected, we realized that energy savings come in different shapes and sizes—some straightforward and others complex—and made our first recommendation: implement university heating and cooling standards on all local thermostats.
Later in our survey, we came across several rooms with their own fan-coil heating units, which we learned need to be monitored more closely than spaces served by central heating and cooling. In one of these rooms, the unoccupied space was being heated to 75 degrees, representing an opportunity for a simple solution and everyone's favorite word: savings! Some of these heating and cooling issues can be fixed behind the scenes by programming building systems. However, some challenges—like the locally-controlled fan-coil heating unit—require behavioral solutions, such as education and signage.
We also observed several opportunities for lighting retrofits at Betts House. While CFLs and LEDs are common energy-efficient lighting alternatives, we found a number of fixtures with incandescent bulbs. From additional surveys, we have gathered that aesthetics is one of the main reasons for avoiding the switch. Also, hard-to-reach places—think chandeliers—and areas with low traffic, such as emergency exit stairwells, are often the last fixtures to be replaced. But, when money is available, most lighting retrofits are easy wins on the Yale campus.
In addition to heating, cooling, and lighting recommendations, we suggested a targeted effort to reduce plug loads, especially with office electronics at the end of the workday. We also had the chance to dive into energy data, which proved useful in identifying an opportunity to refine the scheduling of air-handling units during unoccupied hours.
Betts House is now in the process of implementing our recommendations, and its energy use is trending downward. In fact, the building is using 12% less energy than it did last year, demonstrating that even buildings operating relatively well compared to their historical performance tend to have considerable opportunities for energy savings.
We at the Sustainability Service Corps strongly believe that change happens at the small-scale, community level—and we're eager to engage and work with staff, through these surveys and other initiatives, to help Yale in its efforts to reduce energy use and serve as a model institution for climate action.
At the end of the day, some lessons are learned best outside of the classroom, and it's these types of applied learning experiences that will help make us—Yale students—the sustainability leaders of tomorrow.
The 2016 SSC Energy Squad is composed of Joslyn Barnett ('18), Sherry Li ('17), Annie Bui ('17), Sofia Gulaid ('18), and Vicky Liu (PC '19).