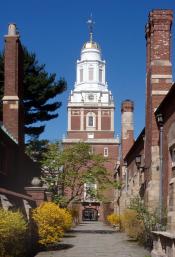 About
The Yale Carbon Charge Project is testing the effectiveness and feasibility of carbon pricing on Yale's campus.
Using the university as a living laboratory for applied research, the project aims to inform energy policy, climate change mitigation, and environmental economics by testing multiple models of carbon pricing.
A 6-month pilot involving 20 university buildings took place during the 2015-2016 academic year. Check out our experimental design to learn more.
---
Purpose
Evaluate multiple models of carbon pricing by using Yale's campus as a living laboratory for applied research.

Reduce campus energy costs and greenhouse gas emissions by using financial incentives to encourage behavior and decisions which align with the principles of a low-carbon economy.
Support Yale's role as a leader in research and institutional design by sharing the project's findings with the academic community, as well as the private and public sectors.
---
Global Context
Carbon pricing is a growing trend in the corporate world. Over 430 companies reported using an internal price on carbon in 2015 – up nearly 300% from 150 in 2014 – and the number is expected to rise, according to the Carbon Disclosure Project (CDP), an internationally-recognized non-profit with the largest database of corporate emissions. To the best of our knowledge, Yale would be the first institution of higher education to implement a comprehensive internal carbon-pricing program.
---
History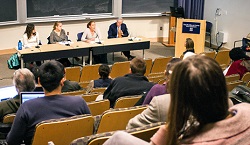 In 2014, Yale convened an Earth Day summit with Sterling Professor of Economics William Nordhaus and Hillhouse Professor of Environmental Law and Policy Dan Esty, as well as students and staff members from the School of Forestry & Environmental Studies and the Office of Sustainability to discuss solutions to climate change. The "teach out" concluded with thoughts on how Yale might use its campus as a test bed for carbon pricing – a policy instrument regarded by climate scientists, economists, and political and business leaders as an important part of efforts to mitigate global climate change.
Later that year, a group of students representing Yale College and several graduate and professional schools submitted a letter to the administration outlining the importance of addressing global climate change on Yale's campus. Inspired by a course taught by Professor Esty, their letter emphasized the potential for Yale – an institutional leader in education and research – to shed light on a pathway toward a low-carbon future through carbon pricing.
At the beginning of the 2014-2015 academic year, Yale President Peter Salovey formed a university task force chaired by Professor Nordhaus "to examine whether it would be feasible and effective for Yale to institute an internal carbon-pricing mechanism as part of its sustainability efforts."
Students, faculty, and staff from a diverse range of disciplines served on the task force. After meeting for over six months and consulting with experts from academia and industry, as well as the Yale community, the task force recommended that Yale pilot an internal carbon charge in the 2015-2016 academic year.
On April 20, 2015, President Salovey shared the report of the Presidential Carbon Charge Task Force with the Yale community, and announced that Yale would move ahead with a pilot in 2015-2016.
---
Organizational Structure
The Yale Carbon Charge Project is a diverse team of students, faculty members, administrators, and staff, with expertise in disciplines ranging from environmental economics to facilities management. To learn about the network of professionals involved with the project, visit the following links for more information and bios:
---
Blog and White Papers
Interested in following our progress? Check out our blog and white papers, which discuss the various aspects of developing, implementing, and evaluating Yale's internal carbon charge program.
---
Questions?
For more information about the Yale Carbon Charge Project, please contact us.