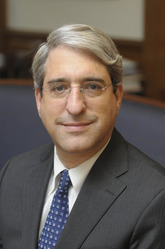 Yale University has launched a first-of-its kind pilot program to put a price tag on the use of carbon — with some of the most prominent campus buildings playing a role in the experiment.
The program demonstrates Yale's role as a leader in climate change research and sustainability efforts, at a time when world leaders are convening in Paris to discuss measures for limiting global carbon emissions. Yale recently signed a White House climate change pledge that calls for a firm agreement to emerge from the Paris climate summit.
Twenty Yale buildings, including the Peabody Museum of Natural History, the School of Management's Evans Hall, the School of Medicine's Yale Physicians Building, and Yale Divinity School's Sterling Divinity Quad, are taking part in the new carbon charge pilot program. So is Woodbridge Hall, the administrative home of Yale President Peter Salovey.
"This concept originated as a proposal from Yale undergraduate and graduate students interested in using our campus as a living laboratory for applied research on global challenges such as climate change," said Salovey, who announced the program with Provost Benjamin Polak.